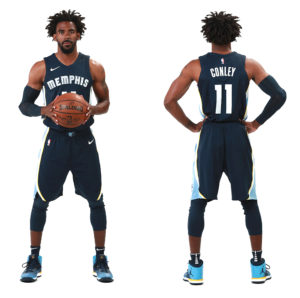 Mike Conley
HEIGHT 6ft 1in

WEIGHT 175lbs

BORN 10/11/1987

AGE 30

FROM Ohio State

NBA DEBUT 2007

YEARS IN NBA 10

TEAM MEM 2007-18
2013‐14 SEASON
Enjoyed a career year in his seventh NBA season, averaging 17.2 points, 2.9 rebounds, 6.0 rebounds and 1.51 steals in 34.2 minutes in 73 games (all starts)… Shot .450 from the field, .361 from three‐point range and .815 from the free throw line… For the seventh consecutive season, led Memphis in assists and assist average… Also led the Grizzlies in total steals (110) and three‐point field goal attempts (291)… Set career highs in scoring average, total points (1,256), field goals made (463), field goals attempted (1,030) and field goal percentage (.450)… Ranked 17th in the NBA in assists per game, tied for 22nd in steals per game and 38th in points per game… Recorded 100+ steals (110) for the fifth consecutive season, joining LeBron James as the only two NBA players with 100+ steals in each of the last five seasons… Scored 19 of his 22 points in the second half and overtime in Memphis' home‐opening victory on Nov. 1 vs. Detroit… Recorded 43 assists to four turnovers in four games from Nov. 25‐Dec. 3, recording the highest assist‐to‐turnover ratio (10.8) over a four‐game stretch since Chris Paul from March 14‐18, 2012… Tallied a season‐ high 14 assists on Dec. 3 vs. Phoenix… Posted back‐to‐back 30+ point games, first scoring 30 points on Jan. 7 vs. San Antonio and then netting a career‐high tying 31 points on Jan. 10 vs. Phoenix… Had only scored 30+ points once in 469 career games prior… Became the first Grizzlies player since Rudy Gay (Nov. 2‐3, 2010) with consecutive 30+ point games… Recorded 27 points and 10 assists on Jan. 29 at Sacramento, a game in which he surpassed current King Rudy Gay as the Grizzlies franchise's career leader in games (480)… It marked his second career game with 25+ points and 10+ assists… Averaged 19.5 points and shot .439 from three‐point range in January, the highest monthly scoring average and three‐point percentage of his career… Scored 19 points in his 500th career game on March 26 at Utah… Made numerous clutch plays throughout the season, including the first two go‐ahead three‐pointers of his career with 2:00 or less remaining in the fourth quarter or overtime, first to break a tie with 1:36 remaining in a Nov. 20 win at Golden State and the second with Memphis trailing by one with 1:08 left on April 14 at Phoenix in a victory that clinched Memphis' franchise‐record fourth consecutive postseason berth… Made a game‐winning running floater with 1.5 seconds left on March 12 at New Orleans… Sank the two go‐ahead free throws with 1.1 seconds on the clock in Memphis' regular season finale win on April 16 vs. Dallas, which secured the seventh seed in the Western Conference Playoffs… Led the team or tied for the team lead in scoring 24 times, assists 48 times, steals 28 times, blocks three times and minutes 20 times… Scored 10+ points 65 times, 20+ points 26 times and 30+ points twice… Recorded 10+ assists five times… Posted five double‐doubles… Missed nine games due to injury… Missed two games from Dec. 17‐18 due to a left thigh contusion… Missed seven games from Feb. 1‐12 due to a sprained right ankle… 2014 Playoffs: Averaged 15.9 points, 4.6 rebounds, a playoff career‐high 7.9 assists and a playoff career‐best 2.00 steals on .431 shooting in 38.1 minutes in seven games (all starts) in Memphis' opening round series against Oklahoma City… Scored 10+ points six times and 20+ points twice, including a playoff season‐high 20 points in Game 3 on April 24 vs. Oklahoma City and in Game 7 on May 3 at Oklahoma City… Recorded 10+ assists twice, including a playoff season‐high 12 assists in Game 2 on April 21 at Oklahoma City… Posted two double‐doubles… In Games 1‐2, became the first player since Rod Strickland (April 28‐30, 1995) to record at least 16 points, five rebounds and 11 assists in consecutive road playoff games in a single postseason.
NBA CAREER
The seven‐year veteran holds career averages of 13.1 points, 2.8 rebounds, 5.6 assists and 1.58 steals in 33.5 minutes in 511 games (482 starts) with the Memphis Grizzlies… Has shot .442 from the field, .372 from three‐point range and .793 from the free throw line… The Grizzlies franchise career leader in games played (511), assists (2,861) and steals (807)… Has led the Grizzlies in assists in every season since being drafted fourth overall in the 2007 NBA Draft… Named to the 2012‐13 NBA All‐Defense Second Team after leading the NBA in total steals (174) that season…Owns the Grizzlies' single‐season franchise record for total steals (174 in 2012‐13) and steals per game (2.19 in 2011‐12)… Owns 35 career double‐doubles… Holds career postseason averages of 15.8 points, 4.2 rebounds and 7.0 assists on .399 shooting in 38.7 minutes in 42 playoff games (all starts) for Memphis… The Grizzlies postseason career leader in assists (295) and assists per game (7.0)… Has missed only 18 games in the past six seasons due to illness or injury… 2012‐13 (Memphis): Averaged 14.6 points in 80 games (all starts) in 34.5 minutes… Named to the 2012‐ 13 All‐Defensive Second Team, his first career honor, after leading the Association in total steals (career‐high 174) and ranking third in the league in steals per game (2.18)… Led the Grizzlies in assists per game (6.1, T‐19th in the NBA) for the sixth consecutive season… Also set career highs in three‐pointers made (106), three‐ pointers attempted (294), free throws made (234), free throws attempted (282) and blocks (24)… Shattered his own single‐season records for total steals (144 in 2010‐11)… Ranked third in the league in steals per 48 minutes (3.03)… Surpassed Jason Williams as the Grizzlies career leader in assists on Dec. 21 vs. Dallas… Passed Rudy Gay as the franchise career leader in steals on Feb. 24 at Brooklyn… Recorded a steal in a franchise‐record 64 consecutive games from Nov. 16‐March 30, the longest streak by any player this season and the third‐longest streak by an NBA player since the start of the 1987‐88 season behind only Chris Paul (108) and Michael Jordan (77)… Became the first NBA player to record at least 170 steals and 20 blocks in a season since Dwyane Wade in 2008‐09… Set career highs by making 12‐of‐ 13 from the free throw line in that game against the Knicks… Netted 23 points and scored the final five of the game in Memphis' 50th win of the season on April 1 vs. San Antonio, tying the game with a three‐pointer and sinking the game‐winning layup with 0.6 seconds on the clock… Recorded a career‐high 15 assists on March 12 at Portland, the most by a Grizzlies player since Chucky Atkins dished out 16 on April 18, 2007 at Minnesota… Blocked a career‐high three shots on Jan. 19 at Chicago… Shot .531 from the field in November, leading all guards in field goal percentage… 2013 Playoffs: Posted playoff career highs in scoring (17.0, 19th in the NBA), rebounds (4.7), assists (7.1, 5th) and steals (1.73) in 38.3 minutes in 15 games, guiding the Grizzlies to their first‐ever trip to the Western Conference Finals… Scored a playoff career‐high 28 points in Game 2 of the first round on April 22, 2013 at LA Clippers… Set a franchise postseason record with 13 assists in Game 4 of the opening round on April 27, 2013 vs. LA Clippers… Nearly recorded the first triple‐double in Grizzlies playoff history with 26 points, a postseason career‐high 10 rebounds and nine assists in Game 2 of the Western Conference Semifinals on May 7, 2013 at Oklahoma City… Became the fourth different player in the past 25 postseasons to record at least 26 points, 10 rebounds and nine assists in a road playoff win, joining Michael Jordan (three times), LeBron James (three times) and Baron Davis (twice)… Led Memphis outright in points, rebounds and assists in Game 2 against Oklahoma City, becoming the first Grizzlies player ever to do so in a playoff victory… 2011‐12 (Memphis): Finished second in the NBA in steals per game (2.19), setting a new franchise record and career high for the category… Led the team in assists (6.5) for a fifth consecutive season, tying for 11th among all NBA players and matching a personal best… Also averaged 12.7 points and 2.5 rebounds on .433 shooting in 35.1 minutes in 62 games (61 starts)… Recorded multiple steals in a career‐high and franchise‐record 14 consecutive games from Feb. 15‐March 18, 2012, the longest such streak by any player during the season… 2012 Playoffs: Averaged 14.1 points, 3.3 rebounds and 7.1 assists on .421 shooting in 39.2 minutes in seven games against the Los Angeles Clippers in the first round of the 2012 Western Conference Playoffs… 2010‐11 (Memphis): Posted career highs in scoring (13.7 points), assists (6.5), steals (1.78) and minutes (35.5) on .444 shooting in 81 games (all starts) after signing a multi‐year contract extension with Memphis on Nov. 1, 2010… Ranked sixth in the NBA in steals and tied for 16th in assists… Set the team single‐season franchise record for total steals (144), surpassing James Posey's mark (137 in 2003‐04)… Recorded a career‐high 14 assists on Dec. 8, 2010 at Phoenix… Tied a career high with seven steals on Oct. 30, 2010 vs. Minnesota… 2011 Playoffs: Averaged 15.2 points, 3.8 rebounds, 6.4 assists and 1.08 steals in 39.0 minutes in 13 games, guiding Memphis to the Western Conference Semifinals for the first time in team history… Scored 12 of his 16 points in the fourth quarter in Game 4 of the conference semifinals on May 9, 2011 vs. Oklahoma City, sinking a three‐pointer with 3.5 seconds remaining in regulation to send the game into the first of three overtimes… Set up Shane Battier for the game‐winning three‐pointer in Game 1 of the first round on April 17, 2011 at San Antonio, the Grizzlies' first‐ ever playoff victory… 2009‐10 (Memphis): Averaged 12.0 points, a team‐high 5.3 assists and
1.36 steals in 32.1 minutes in 80 games (all starts)… Led the team in three‐point percentage (.387)… Drove past Shaquille O'Neal and made the game‐winning layup with 3.0 seconds remaining in overtime on Dec. 8, 2009 vs. Cleveland… 2008‐09 (Memphis): Improved on his rookie averages with 10.9 points, 3.4 points and a team‐ high 4.3 assists on .442 shooting in 30.6 minutes in 82 games (61 starts)… Led the team in three‐point field goal percentage (career‐high .406)… Recorded 14.3 points, 3.9 rebounds and 5.7 assists on .454 shooting in 36.3 minutes in 39 games after the team hired Lionel Hollins as head coach… Scored a career‐high 31 points on March 7, 2009 vs. Philadelphia… Grabbed a career‐high 10 rebounds on Dec. 12, 2008 vs. Chicago and Feb. 20, 2009 vs. Sacramento… Tallied a career‐high tying seven steals on April 13, 2009 at Phoenix… 2007‐08 (Memphis): Averaged 9.4 points and led all rookies with 4.2 assists in 53 games (46 starts)… Played in the T‐Mobile Rookie Challenge on Feb. 15, 2008 in New Orleans, recording a team‐high eight assists.
NBA TRANSACTIONS
After guiding Ohio State to the 2007 NCAA Championship Game as a freshman, the early‐entry candidate was drafted by the Memphis Grizzlies in the first round (fourth overall) of the 2007 NBA Draft on June 28, 2007… Signed a multi‐year contract with the Memphis Grizzlies on July 30, 2007… Signed a multi‐year contract extension with the Memphis Grizzlies on Nov. 1, 2010.
COLLEGE CAREER
In his lone season at the Ohio State University (2006‐07), guided the Buckeyes to a 35‐4 record and the NCAA National Championship Game… Led the team in assists (6.1) and steals (2.2) while placing third in scoring (11.7 points) and shooting .518 from the field in 31.6 minutes in 39 games… Named to the All‐Big Ten First Team by the media and All‐Big Ten Second Team by the coaches… Earned 2007 Big Ten All‐Tournament honors… Averaged 16.0 points, 5.0 rebounds and 4.8 assists in six games during the NCAA Tournament… Totaled 20 points, six assists and four steals in the national championship against Florida on April 2, 2007… Notched a double‐ double with 17 points and 10 assists on Jan. 17, 2007 vs. Northwestern.
PERSONAL
Born Oct. 11, 1987 in Fayetteville, Ark. and raised in Indianapolis… Full name is Michael Alex Conley, Jr… Married to wife Mary… Son of Rene and Mike Conley, Sr., who won the gold medal in the triple jump in the 1992 Olympics and took silver in 1984… Has three siblings, Joan, Sydney and Jon… Father earned nine NCAA individual titles at Arkansas (class of 1985) and was inducted into the USA Track and Field Hall of Fame in 2004… Was a high school and college teammate of the No. 1 overall pick in the 2007 NBA Draft, Greg Oden, first at Lawrence North High School in Indianapolis and then one season at Ohio State… Paired with Oden, lost just 11 total games during his high school and college careers… Father coached both Conley and Oden during the summers, starting when the duo was in the sixth grade… Both Conley, Sr. and Conley, Jr. own high school basketball state championships… Featured on the regional cover of Sports Illustrated during the Grizzlies' 2013 Playoff run, becoming the first Grizzlies player ever to appear on an SI cover… Very active in the Memphis community, is one of two players in history (Pau Gasol) to join the Grizzlies Foundation Board of Directors… Has co‐hosted Staxtacular, an annual fundraiser benefiting the Stax Music Academy, every year since 2010… An active participant in the Grizzlies TEAM UP Mentoring Initiative throughout his NBA career… Participated in the 2008 and 2009 "Peyback Bowl," hosted by NFL superstar Peyton Manning, finishing second in 2008 to NFL Pro Bowl wide receiver Reggie Wayne… Gifted $500,000 to the Ohio State men's and women's basketball programs in September 2013… In recognition of the donation, Ohio State named its weight room at the program's practice facility the "Mike Conley Jr. Strength and Conditioning Room"… Enjoys bowling, golf, video games and movies… An avid bowler, who averages over 200, hosts an annual Bowl‐N‐Bash to benefit the Special Olympics and Memphis Police Sports Federation.
NBA REGULAR SEASON CAREER HIGHS
Points: 31, 01/10/2014, Memphis vs Phoenix (Twice)
Field Goals: 14, 03/07/2009, Memphis vs Philadelphia
Field Goal Attempts: 23, 01/07/2014, Memphis vs San Antonio
Three-Point Field Goals: 5, 03/08/2014, Memphis vs Charlotte (Twice)
Three-Point Attempts: 10, 11/13/2013, Memphis vs Toronto
Free Throws: 12, 03/27/2013, Memphis at New York
Free Throw Attempts: 14, 03/27/2013, Memphis at New York
Offensive Rebounds: 4, 02/20/2013, Memphis at Toronto
Defensive Rebounds: 9, 02/20/2009, Memphis vs Sacramento (Twice)
Rebounds: 10, 02/20/2009, Memphis vs Sacramento (Twice)

Assists: 15, 03/12/2013, Memphis at Portland

Steals: 7, 10/30/2010, Memphis vs Minnesota (Twice)


Turnovers: 7, 03/15/2013, Memphis at Denver (3 times)


Blocked Shots: 3, 01/19/2013, Memphis at Chicago

Minutes: 51, 03/13/2012, Memphis vs L.A. Lakers


NBA REGULAR SEASON STATISTICS
Season Age Tm LgPos G GS MP FG FGA FG% 3P 3PA 3P% 2P 2PA 2P% FT
2007-08 20MEMNBA PG 53 46 1381 189 442.428 30 91.330 159 351.453 90 2008-09 21 MEM NBA PG 82 61 2508 323 730 .442 88 217 .406 235 513 .458 161
FTA FT%ORB DRB TRB ASTSTLBLK TOV PF PTS RPG APG PPG
123.732 21 118 139 222 44 2 89 85 498 2.6 4.2 9.4 197 .817 25 251 276 354 90 8 143 146 895 3.4 4.3 10.9 187 .743 30 161 191 425 109 12 170 178 959 2.4 5.3 12.0 247 .733 32 215 247 528 144 18 176 182 1107 3.0 6.5 13.7 158 .861 22 134 156 404 136 11 125 133 788 2.5 6.5 12.7 282 .830 43 182 225 487 174 24 189 171 1168 2.8 6.1 14.6 276 .815 41 172 213 441 110 13 150 141 1256 2.9 6.0 17.2
1470 .793 214 1233 1447 2861 807 88 1042 1036 6671 2.8 5.6 13.1
2009-10 22 MEM 2010-11 23 MEM 2011-12 24 MEM 2012-13 25 MEM 2013-14 26 MEM Career
NBA PG 80 80 2569 369 830 .445 82 212 .387 287 618 .464 139 NBA PG 81 81 2872 423 953 .444 80 217 .369 343 736 .466 181 NBA PG 62 61 2174 296 684 .433 60 159 .377 236 525 .450 136 NBA PG 80 80 2757 414 940 .440 106 293 .362 308 647 .476 234 NBA PG 73 73 2446 463 1030 .450 105 291 .361 358 739 .484 225 NBA 511 482 16707 2477 5609 .442 551 1480 .372 1926 4129 .466 1166
Season Age Tm LgPos GGS MP FGFGA FG%3P3PA 3P% 2P2PA 2P% FTFTA FT%ORBDRBTRBASTSTLBLKTOV PFPTS RPG APG PPG
2010-11 23MEMNBA PG1313 507 71183.38811 37.297 60146.411 44 53.830 7 43 50 83 14 2011-12 24MEMNBA PG 7 7 277 32 76.42111 22.500 21 54.389 24 32.750 4 19 23 50 6 2012-13 25MEMNBA PG1515 575 83216.38418 64.281 65152.428 71 93.763 12 59 71107 26 2013-14 26MEMNBA PG 7 7 267 44102.431 3 27.111 41 75.547 20 26.769 5 27 32 55 14 Career NBA 42 42 1626 230 577 .399 43 150 .287 187 427 .438 159 204 .779 28 148 176 295 60
3 30 39197 3.8 6.4 15.2 0 16 19 99 3.3 7.1 14.1 5 34 34255 4.7 7.1 17.0 1 15 14111 4.6 7.9 15.9 9 95 106 662 4.2 7.0 15.8
Attributes:
Family Oriented

Husband/Father- Mary Peluso (m. 2014) son, Myles

Man of faith

Responsible, loyal, trusting, & respectable

Competitive not just on the court but in anything he does (i.e. bowling, video games, golfing, playing cards, & family games)

At an early age he was obsession with winning and collecting trophies, his Dad named him the "predator"

Tough- played a few days after surgery to repair his fractured orbital socket in 3 places.

 

Injury occurred during the play offs at Portland. Had to have 2 titanium plates inserted. (IRON MIKE) T-shirts were created by Grizzlies because of his playoff performance while injured.

Pound for pound one of the toughest point guards in the NBA

Ambidextrous- can use either hand equal [bowls & golfs with either hand & can go either right or left in basketball games]

Dribbles with either hand [dribbling video on YouTube had over 2 million hits]

Naturally right handed
Achievements:
Black belt at Taekwondo [age 10]

3 time High School State Champion (Lawrence North High School) [Lost only 7 games in his 4 year high school career]

First and only year at The Ohio State made it to the National Championship Game 2007

Won Most Outstanding Player during NCAA tournament in 2007

Drafted by Memphis Grizzlies 4

th

pick overall 2007

Played AAU from age 10-17 and only lost 1 game during this stretch while racking up 7 AAU National Championship Titles; played for both Arkansas Hawks & Indy Heat AAU Teams

Age 10 he won the "Just Write" short story competition hosted by the City of Fayetteville, the story was called "Mission Possible"
Philanthropy
Donates all proceeds from Bowling fundraiser to Sickle Cell Foundation, which is through the Methodist Hospital

PSA for St. Jude's Children's Hospital

Has weight room named in his honor after making a $500k donation to The Ohio State athletics

Spokesman for Stax Fundraiser [Memphis, TN] [http://www.nba.com/grizzlies/community/staxtacular-140106]

Hosting NBA Fit Mini-clinic while partnering with the Grizzlies Foundation to host Samaritan's Feet [http://www.nba.com/grizzlies/photos/samaritans-feet-160130]

Hosted clinic through NBA Cares in China [http://www.nba.com/grizzlies/photos/mike-conley-in-china-150723]

Conley donated $15,000 to the Lawrence Township School Foundation, which includes his alma mater Lawrence North High School, provides uniforms to school at his personal cost

Hosts a camp each year for the less fortunate kids in West Helena, AR where his mom grew up for free. all proceeds raised go to the Youth Enrichment programs in West Helena
Musically Inclined
Loves listening to music

Made his own rap song & dances

Plays songs on keyboard self taught
HUGE GAMER
Video games (playing since the age of 5)

Plays in competitive league
[wvc_video_opener video_url="https://youtu.be/ZG6PgMVi1Ys?t=38s"]